LATEST NEWS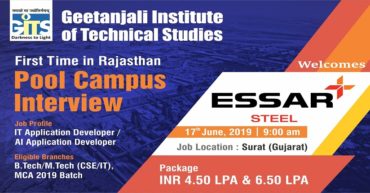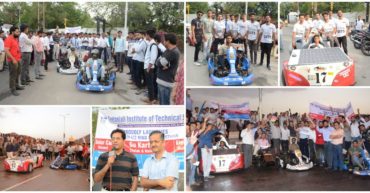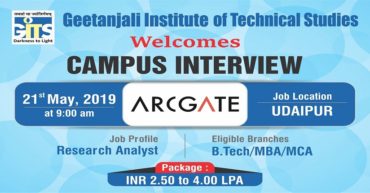 CAMPUS INTERVIEW OF ARCGATE
Campus Interview of Arcgate with a Special Package of INR 2.50 to 4.00 LPA only for GITS B.Tech / MBA / MCA students.
STAY TUNED

WITH US

Subscribe now and receive weekly newsletter with educational materials, new courses, interesting posts, popular books and much more!

Mr. Prashant Vaidya
HR Head,Jhon Energy
Good arrangement and good facilities would like to come again for the campus recruitment.

Ms. Deepika Ahuja
Manager-HR, Metacube , Jaipur
Institute is growing leaps & bounds in its looks, student's courtesy and attitude .It is a great feeling to see GITS growing to international standards…

Abhilasha Jain
Student: MBA 2014
I would always entreat that this venerated institution keep on growing like anything…

Dhruvika Taunk
Student : B.Tech 2014
I am really proud of my alma-mater because of which today I have reached a place where I rub shoulders with the likes of IIT graduates thus offering the fact that GITS is one of the Best institute in Rajasthan.

Arpan Napavlia
Student: B.Tech 2014
I am glad that I can call myself an alumnus of GITS as this institution gave me the right platform to ascend the stairs of success ………………

Mr. Urvish Pandey
Campus Recruitment Head, TCS
Had a wonderful session of students of GITS, I wish the all the best for their future endeavors.